Product Testing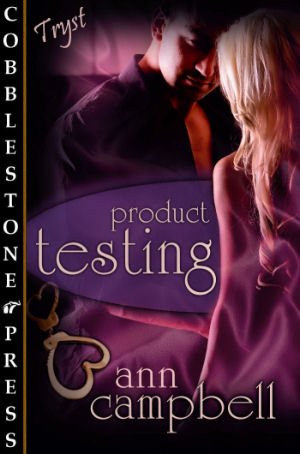 Book Description
Tessa took a job at Good Vibrations adult store to help her break out of her good-girl role. J.P. is a bad boy who likes his women as wild and kinky as he is and Tessa just doesn't fit the bill.


With a little meddling from a self-proclaimed nympho, these two suddenly find themselves locked in a room with toys galore and nothing but time. What else is there to do but a little product testing?
Book Review
I normally don't do reviews of the erotica that I read.  However, this one was sent to me in exchange for a review.
This was a very short, but definitely packs a punch!  I would say that it scores a 10 on the heat index.
J.P. was just the type of guy that you would want to lust after.  And the fact, that he ended up in the room with Tessa and all those toys…  Well, there was little left to the imagination.  The author described everything in such wonderfully sinful detail! 
In conjunction with the Wakela's World Disclosure Statement, I received a product in order to enable my review. No other compensation has been received. My statements are an honest account of my experience with the brand. The opinions stated here are mine alone.